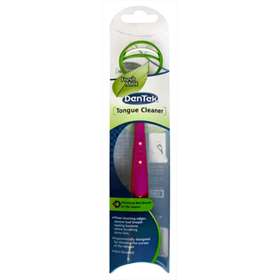 Click on image to enlarge



Price: £4.45 (incl VAT)
Sorry, this item is currently unavailable. Click here to receive notification when this product comes back into stock.
DenTek Breath Remedy Tongue Cleaner - For a fresh, healthy mouth - Professional Quality.
Three Soft cleaning edges - flexes and contours to fit the shape of your tongue.
Ergonomically designed - comfortably fits every size mouth for cleaning the curves of the tongue.
Low profile - reaches the back of the tongue without gagging.
Fresh Mint Flavoured.
Clinical studies show that up to 85% of bad breath cases occur from accumulation of bacteria on the tongue. These bacteria produce volatile sulfur compounds which cause bad breath. Breath Remedy Tongue Cleaner's unique, patented design comfortably reaches the far back of the tongue to thoroughly remove these bacteria, effectivley reducing bad breath.

Directions for Use: Extend your tongue. Place the Tongue Cleaner on the back of your tongue and pull forward, skimming the surface of your tongue. Rinse the Tongue Cleaner with warm water and repeat as necessary.

Colours may vary.