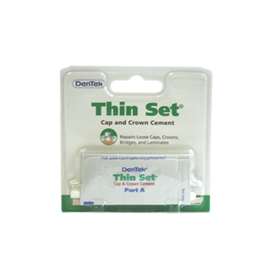 Click on image to enlarge



Price: £4.59 (incl VAT)
Sorry, this item is currently unavailable. Click here to receive notification when this product comes back into stock.
Another product to consider Dr Denti Refit temporary re-fitting cement suitable for crowns veneers and bridges as an alternative product.

DenTek Thin Set Cap & Crown Cement - For temporary repair of Loose Crowns, Caps, Laminates and Bridges.

Repairs:
Loose Crowns.
Caps.
Laminates.
Bridges.
DenTek Thin Set Cap & Crown Cement kit contains tooth cement, cotton bud and applicator. The cement comes in two parts, Part A and Part B, when mixed together they form a strong adhesive. The cement acts as a temporary repair until you visit your dentist.

Directions for Use: Clean the area and the inside of the crown, cap or inlay with warm water and dry with the cotton bud. Use the wooden applicator to mix Part A and Part B together. You have one minute to apply the cement before it begins to set.

Ingredients: Accelerator: Stabilyte Rosin, Polypale Rosin, Eugenol USP, Glacial Acetic Acid. Base: Zinc Oxide, Castor Oil A, Calcium Hydroxide, Zinc Stearate.