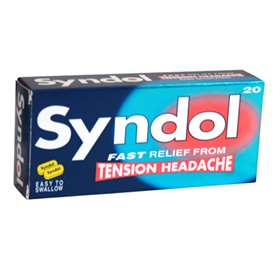 Click on image to enlarge



Price: £3.89 (incl VAT)
Sorry, this item is currently unavailable. Click here to receive notification when this product comes back into stock.
Syndol Caplets - Fast relief from tension headache.
Easy-to-swallow caplets.
20 caplets in a pack.
Contains Paracetamol 450mg, Caffeine 30mg, Codeine phosphate 10mg, Doxylamine succinate 5mg.
Provides relief from: mild to moderate pain such as headache, muscle contraction or tension headache, migraine, neuralgia, toothache, sore throat, dysmenorrhoea, muscular and rheumatic aches and pains and pain following surgical or dental procedures.

Syndol contains 4 active ingredients to ensure that your pain is relieved quickly and effectively. The easy to swallow caplets are suitable for adults and children over 12 years of age.

Directions for Use: Adults - 1 or 2 Syndol tablets every 4-6 hours as needed. Maximum of 8 Syndol tablets in 24 hours.

Warnings: Codeine should be used with caution in the elderly and debilitated patients, as they may be more susceptible to the respiratory depressant effects. Codeine can cause addiction, do not take for more than 3 consecutive days. Do not take if you are pregnant or breastfeeding.

Ingredients: Paracetamol BP 450.0mg, Codeine Phosphate BP 10.0mg, Doxylamine Succinate NF 5.0mg, Caffeine BP 30.0mg, Povidone, Croscarmellose Sodium, Corn Starch, Magnesium Stearate, Talc, Purified water, Opadry II Yellow (Lactose Monohydrate, Hydroxypropyl Methyl Cellulose (Methocel E15), Polyethylene Glycol 4000, Quinoline Yellow Aluminium Lake (E104), Sunset Yellow Aluminium Lake (E110),Titanium Dioxide).

Please Note: Due to MHRA regulations we can only despatch one box of Codeine-containing products at a time. Multiple orders will not be accepted. Codeine should not be taken for longer than 3 days as this can cause addiction. If you are still experiencing pain after 3 days of using Codeine please see your doctor.