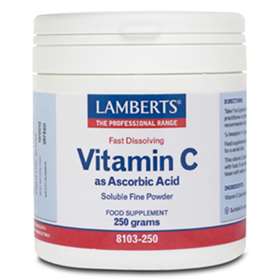 Click on any image to enlarge



Price: £12.65 (incl VAT)
(Buy any 3 or more Lamberts products and save 5%)
Price: £12.65 (incl VAT)
(Buy any 3 or more Lamberts products and save 5%)
This soluble fine white powder formulation is ideal for those who have difficulty swallowing tablets. Lamberts ascorbic acid powder is fast dissolving with a refreshing sharp taste. It is an economical way to supplement vitamin C. This formulation is the fastest dissolving Vitamin C and can be used to fortify fruit juices and squashes.

Vitamin C:


Is involved in the repair of cells/tissues.


It is involved in the conversion of proline (an amino acid) to hydroxyproline (a non-essential amino acid necessary for the construction collagen).
Essential in collagen maintenance in skin, bones and teeth.
Is required for the activity of leucocytes, immunoglobulins and natural antibodies.
Protects vitamins A and E against damage.
Helps to maintain normal blood cholesterol levels.
Is involved in the formation of corticosteroid hormones in the adrenal gland.

Vitamin C was first discovered in 1932 and was the subject of the first controlled nutritional experiment in recorded history. It is known to be involved in at least 300 biochemical pathways in the body. Humans cannot produce their own vitamin C so dietary intake is necessary.

Dosage:
1 to 3 grams daily. Small intakes several times daily (freshly made up with water) are more beneficial than a large single daily dose.
Allergen Advice: None.

Suitable for vegetarians.

Caution: Over 1000mg of Vitamin C may caused mild stomach upset in sensitive individuals.

Ingredients per 1/4 teaspoon (1 gram): Vitamin C 1000mg.






Product code: 8103-250
Price: £12.65 (incl VAT)
(Buy any 3 or more Lamberts products and save 5%)