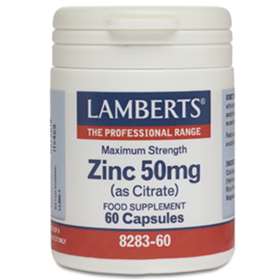 Click on any image to enlarge
| | |
| --- | --- |
| Price: £6.09 (incl VAT) | Sorry, this product is no longer available. |
This high potency 50mg Zinc supplement is for short term use to correct deficiencies quickly. For a long term maintenance supplement use the Zinc 15mg. The maintenance of the health of several body systems such as the nervous, immune and reproductive systems are influenced by zinc, as are the senses of taste and smell. One fifth of zinc in the body is found to be in skin. Zinc helps tissue renewal and is involved in some of the enzymatic reactions necessary for skin's normal oil gland function.


A cream powder in a clear hard shell capsule.

60 capsules.

High strength.

Suitable for correcting zinc deficiencies quickly.

Refined cereal grains contain 90% less zinc than they once did.

1 in 3 adults in the UK have a zinc deficiency.

Helps to supports male and female fertility.

Extra physical or mental demands made on the body can increase the need for zinc.

Zinc is also an integral part of insulin, the hormone used for the treatment of diabetes, and is essential for all protein synthesis in the body. Any extra physical or mental demands made on the body can increase the need for zinc or cause our bodies to lose extra zinc, whereas phytate and fibre rich foods inhibit the absorption of zinc from food.

The principle role of any trace element is that of promoting the catalytic action of enzymes. Zinc is an invaluable mineral taking part in dehydrogenation and peptidase processes. It is specific for carboxypeptidase, the enzyme that removes the terminal amino acid from the carboxy end of a peptide. It is also specific for carboxylic anhydrase, the enzyme responsible for the ultimate elimination of carbon dioxide from an organism (and in the production of hydrochloric acid in the parietal cells of the stomach mucosa).

Dosage: 1 capsule daily.

Disintegration Time: Less than 30 minutes.

Suitable for vegetarians.

Caution: Some patients taking zinc on an empty stomach might experience some minor digestive disturbance such as nausea. should this be the case, take the supplement with a meal.

Caution:Long term intake of 25mg or above may lead to anaemia.

Ingredients per capsule: Zinc (as Citrate) 50mg. Encapsulated with: Cellulose, Capsule Shell (Hrdroxypropyl Methylcellulose), Rice Powder, Silicon Dioxide, Magnesium Stearate.