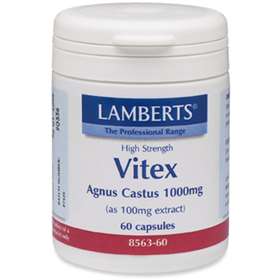 Click on any image to enlarge
| | |
| --- | --- |
| Price: £10.16 (incl VAT) | Sorry, this product is no longer available. |
Due to the new EU Herbal Legislation, Lamberts Vitex Agnus-Castus can no longer be sourced from Lamberts as of the 30th April 2011 until it has been licensed and registered. However, it will continue to be available through Express Chemist, whilst stock lasts. Within the next 18 months or so Lamberts will be licensing and registering their Vitex Supplement.

Some of the earliest scientific studies on Vitex for women's problems date back to 1954 in Germany. A recent survey among Medical Herbalists revealed strong support for the use of Vitex in the treatment of hormone imbalance syndromes among young and menopausal women. It has been shown to help alleviate premenstrual symptoms, cycle irregularities and adverse menopausal symptoms.
A grey/green oval coated tablet.
60 tablets.
Reduces premenstrual symptoms.
Alleviates cycle irregularities and adverse menopausal symptoms.
Suitable to use alongside Vitamin B6 and Evening Primose Oil.

Modern research has shown that the action of Vitex is at the highest level of hormonal control: the pituitary gland in the brain. Here, it is thought that Vitex mimics an important neurotransmitter referred to as dopamine, which helps to normalise the output of gonadotrophins that control sex hormones.

Vitex agnus-castus (often referred to as Vitex) is a shrub that originates from the Mediterranean. The herb has grown in popularity in recent years with many published studies documenting its important properties. The Vitex berries are used in the manufacture of the herbal extract and contain a wide range of active compounds, including flavonoids and a group of compounds referred to as iridoids, which include aucubin and agnuside.

Lamberts Vitex is a standardised extract equivalent to 1000mg of dried Vitex fruit and can be used alongside other food supplements such as Vitamin B6 and Evening Primose Oil.

Dosage:1 daily.

Disintegration Time: Less than 1 hour.

Suitable for vegetarians.
Caution: This product is not recommended for pregnant or lactating women.

Ingredients per tablet: Vitex agnus-castus (provided by 100mg of a 10:1 extract) 1000mg. Tableted with: Calcium Carbonate, Microcrystalline Cellulose, Acacia, Silicon Dioxide, Magnesium stearate, Titanium Dioxide, Hydroxypropyl Methycellulose, stearic Acid, Iron Oxides, Copper Chlorophyllin.