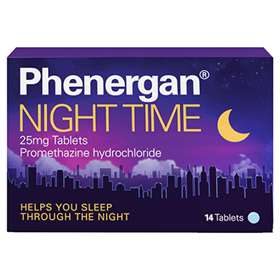 Click on image to enlarge



Price: £3.80 (incl VAT)

A short term aid for when you struggle to sleep.

From time to time we all struggle from lack of sleep whether it's difficulty in falling asleep, waking up in the night and can't get back to sleep or non-restorative sleep where you do not feel refreshed.
Phenergan Night Time 25mg tablets are a film coated tablet containing the active substance promethazine hydrochloride for the short term use for adults suffering from sleeplessness/insomnia helping to get a good nights sleep.
For short term use.
For those who have difficulty in sleeping.
Contains promethazine hydrochloride.
Directions of use.
Please read the product leaflet before taking these tablets.
Adults:
One or two tablets to be taken as a single night time dose approximately 20 minutes before going to bed.
If symptoms persist please consult your doctor
Do not use for more than 7 days without asking your doctor or pharmacist that it is safe to do so.

Ingredients:
each tablet contains the active ingredient Promethazine Hydrochloride 25mg.
Also contains: Lactose monohydrate, Maize starch, Povidone, Magnesium stearate, Polyethylene glycol, Opaspray (contains titanium Dioxide-E171, Hypromellose-E464 and indigo carmine aluminium lake blue-E132) and Hypromellose.

Cautions:
Do not take if you are sensitive to any of the ingredients listed, to a group of medicines phenothiazines or if you have been taking medicines known as monoamine oxidase inhibitors during the last 14 days.
Ask your doctor before taking Phenergan Night Time Tablet if you suffer from asthma, bronchitis, glaucoma, epilepsy, heart, liver or kidney problems or if you are taking any medicines that have been prescribed for you by your doctor.

Warning:
Avoid alcoholic drink.
This medicine causes drowsiness.
Do not drive or operate machinery if affected.
Do not exceed the stated dose.
Exposure of the skin to strong sunlight must be avoided.




| | | | | |
| --- | --- | --- | --- | --- |
| Product code: 4052908 | | Price: £3.80 (incl VAT) | | |