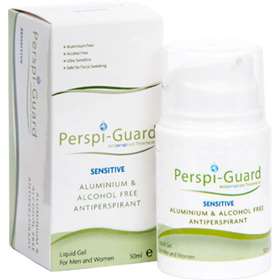 Click on image to enlarge



Price: £16.50 (incl VAT)
Sorry, this item is currently unavailable. Click here to receive notification when this product comes back into stock.
Perspi-Guard Sensitive Antiperspirant Gel contains zero alcohol and zero aluminium. If you have sensitive skin, suffer with light to moderate sweat levels or have allergies to ingredients found in other antiperspirants Perspi-Guard Sensitive can be useful. It is not comparable to aluminium based antiperspirants and can be used for facial, underarm, groin and buttock sweating.
For men and women.
Safe for facial sweating.
Aluminium free.
Alcohol free.
Ultra sensitive.
Directions for Use:
Can be used on face, groin and underarms.
Must be applied at night before bed, can be reapplied throughout the day.
Ensure skin is clean and dry, apply to the affected area.
Apply every night for 3-4 weeks, once results are seen, applying every other night is sufficient.
Do not use a separate moisturiser when applying to the face, contains anti-aging properties.

Warnings:
Keep out of eyes.
Do not use on broken, damaged or sore skin.
For external use only.
Keep out of reach of children.
Spot test skin for compatibility.
In case of irritation or reaction, discontinue use immediately.

Ingredients:
Aqua, Glycerin, CH3tm Pentapeptide (contains Aqua, Glycerin, Pentapeptide-3, Caprylyl Glycol) Acetyl Hexapeptide-3, Purified Diethylene Glycol Monoethyl Ether, Essential Lemon Oil, Essential Tee Tree Oil, PEG 40 or Sorbitan Monolaurate, PEG-8 Caprylic/Capric, Glycerides, Laureth-9, Potassium Sorbate, Disodium EDTA, Alkyl Acrylate Crosspolymer, Lactic Acid.