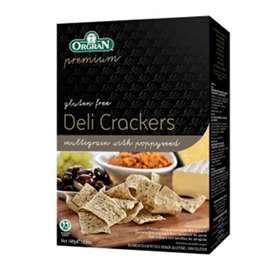 Click on image to enlarge



Price: £2.29 (incl VAT)
Sorry, this item is currently unavailable. Click here to receive notification when this product comes back into stock.
Orgran Gluten Free Deli Crackers Multigrain with Poppyseed are light, crispy and made with simple wholesome goodness. Orgran Deli Crackers have complete individuality and go well with any sauce or dip accompaniment. Orgran Gluten Free Deli Crackers Multigrain with Poppyseed are made from 100% cereal and vegetable with no dairy, eggs or animal fats. Ingredients are specially selected to make a truly natural product that combines the elements of taste and nutrition.


100g box of Orgran Gluten Free Deli Crackers Multigrain with Poppyseed.

8 servings per pack.

Perfect for snacking and dipping.

Suitable for kosher, vegetarian and vegan diets.

Gluten and wheat free.

Dairy and egg free.

Yeast, nut and soy free.

Perfect for sufferers of Coeliac Disease and gluten sensitivity.

Made in Australia.

The Orgran production plant is one of the very few specialised facilities worldwide that is specially designed and committed to produce food in a strictly controlled environment completely free from wheat and gluten in order to ensure the highest quality and purity of natural foods is produced. The unique process practices traditional methods to retain the delicate natural flavour of the grains and also ensures the product offers the highest biological benefits and meets the strictest demands set by consumers of natural food and with specialised diets.

Ingredients: Brown Rice, Wholegrain Sorghum, Wholegrain Millet, Salt, Poppy Seed (2%), Vegetable Protein Extract (Maize), Calcium Carbonate, Natural Caramel Colour.