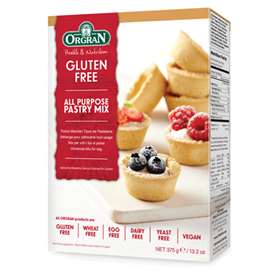 Click on image to enlarge



Price: £2.59 (incl VAT)
(Buy any 3 or more Orgran products and save 5%)
Price: £2.59 (incl VAT)
(Buy any 3 or more Orgran products and save 5%)
Orgran Gluten Free All Purpose Pastry Mix is a versatile gluten free mix that can be used to make gluten free puff pastry, gluten free shortcrust pastry and gluten free shortbread pastry.
375g/13.2oz.
All purpose pastry mix.
Makes puff, shortcrust and shortbread pastry.
Ideal for both sweet and savoury dishes.
Gluten free, wheat free and yeast free.
Dairy, egg and soy free.
Free from preservatives and artificial colours and flavours.
Suitable for vegetarian, vegan and kosher diets.
Suitable for freezing.
Made in Australia.
Orgran Gluten Free All Purpose Pastry Mix can be conveniently prepared into sheets and either frozen for later use or used to produce delicious savoury or sweet filled pastries and baked goods such as pies, sausage rolls, cakes, cream slices and apple turnovers immediately.

Orgran is a dedicated leading brand and a trusted name in naturally gluten free nutritious foods, they use a unique process that incorporates traditional methods to retain the natural flavour of the grains whilst also ensuring the product offers the highest benefits and demands set by consumers of natural food and those on specialised diets.

Ingredients:
Maize starch, Rice flour, Tapioca flour, Potato starch, Rice bran, Salt, Yellow pea flour, Vegetable gums; methylcellulose, Carboxymethycellulose,Guar gum, Raising agent; Calcium carbonate,Emulsifier; Monoglycerides from vegetable.




Product code: ORG-6396
Price: £2.59 (incl VAT)
(Buy any 3 or more Orgran products and save 5%)