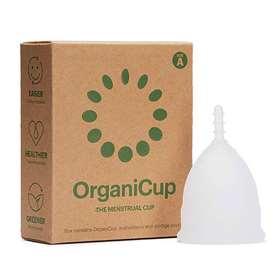 Click on image to enlarge



Price: £16.99 (incl VAT)

Forget about your period day and night

OrganiCup is a re-usable menstrual cup that replaces pads and tampons which can be worn for 12 hours of leak-free super freedom over and over. OrganiCup is made of 100% soft medical-grade silicone and can hold 3 tampons worth. No BPA, latex or dyes.
Healthier, toxin free periods.
No leaks, no worries.
No Dryness.
Up to 12 hours protection.
Save money, protect the planet.
Can be used effectively during swimming and other sporting activities.
Certified vegan.
How does it work?
Please read enclosed instructions before use.
• Fold and Insert. The soft OrganiCup unfolds to form a light vacuum keeping it safely in place.
• Wear for-12 hours Organicup cannot be felt when inserted correctly.
• Empty, rinse and repeat Public toilets are no challenge - just use toilet paper and rinse when you're back home.Or use wet wipes.

Which size should i use?
Those who haven't given birth should use size A
Those who have given birth should use size B

IUD : OrganiCup can easily be used with and IUD, but its advised that you consult your doctor or gynecologist before use.

Made with 100% Medical Grade Silicone.





| | | | | |
| --- | --- | --- | --- | --- |
| Product code: 59260C | | Price: £16.99 (incl VAT) | | |