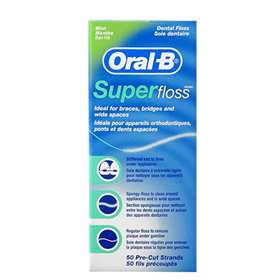 Click on image to enlarge



Price: £2.95 (incl VAT)

Oral-B Super Floss is ideal for cleaning braces, bridges and gaps between teeth.


Allows flossing under appliances.
Cleans around appliances and between wide spaces.
Removes plaque under the gum line.
Supplies pre-measured strands of floss.

Oral-B Super Floss has three unique components ? a dental floss threader, spongy floss and regular floss that work together for maximum benefits.

Directions for use:
For bridges, braces, implants and wide spaces use the stiffened end, thread the spongy-floss between teeth and appliance or through wide spaces.
Use a soft back-and-forth motion to remove plaque.
Pull the spongy-floss through to the regular floss section.
Gently slide the regular floss under the gumline.
Use an up and down motion to remove plaque.
For regular teeth, gently slide regular floss between teeth and under the gumline.
Clean under the gumline as directed above.
Use a fresh section of floss for every tooth.




| | | | | |
| --- | --- | --- | --- | --- |
| Product code: 0136440 | | Price: £2.95 (incl VAT) | | |