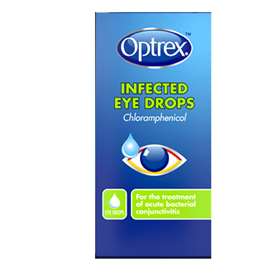 Click on image to enlarge



Price: £5.69 (incl VAT)
Sorry, this item is currently unavailable. Click here to receive notification when this product comes back into stock.
This product is only &nbsp AVAILABLE &nbsp via phone order &nbsp as a 24 Hour delivery (Tracked Priority) service will be required to supply this to you. This applies Monday to Thursday, orders placed on Friday will be held and dispatched the following Monday.Please telephone us on 0800 542 1203 or +44 (0) 1622 763 434. Phones are manned between 9am and 5.00pm, Monday to Friday

Optrex Infected Eye Drops 10ml is effective at treating eye infections (Acute bacterial conjunctivitis) and contagion. It is specifically formulated to reduce the length of infection and severity of symptoms. Optrex infected eye drops are great for those who wish to treat infected eyes regularly throughout the day.

5 Day Treatment.
Treats Acute bacterial conjunctivitis.
Helps Prevent Contagion.
Pharmacy only Medicine.
Contains Chloramphenicol 0.5%.
Directions for Use:
Only use the drops during waking hours.
Ensure your hands are clean and dry and the seal of the bottle is intact.
Gently squeeze 1 drop into the infected eye every 2 hours for the first 48 hours, and every 4 hours afterwards.

Ingredients
Chloramphenicol 0.5% w/v.
Also contains: Purified Water, Boric Acid and Phenylmercuric Nitrate.

Cautions
Keep Out Of Reach Of Children. Store between 2-8 degrees. Discard after 28 days after opening. Do not exceed the 5 day period of use without consulting your GP or Pharmacist.

You are required to select 24 Hour delivery (Tracked Priority) when ordering this product as we are unable to supply otherwise. Orders placed on Friday will be held and dispatched the following Monday.