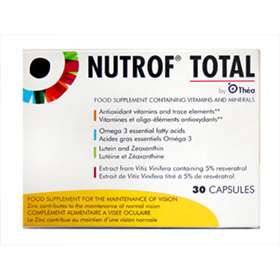 Click on image to enlarge



Price: £14.30 (incl VAT)

Nutrof Total Capsules have been specially formulated using the ideal combination of vitamins and minerals, assisting you in ensuring that your eyes have the correct nutritional intake to maintain healthy eyes..
Soft Gelatine capsules.
Include antioxidant vitamins, Lutein and Zeaxanthin, Omega 3 fish oils, plus essential minerals.
For the maintenance of vision.
Contains Fish Oils.
Dose:
1 capsule daily

Antioxidant Vitamins And Trace Elements:

Vitamin c
60mg
75%
Vitamin E
10mg
83%
Zinc
10mg
100%
Copper
500μg
Selenium
25μg
45%
Essential Fatty Acids:
| | |
| --- | --- |
| Fish Oil Epax quality silver class | 330mg |
| Containing Omega 3 | 231mg |
| EPA | 132mg(57%) |
| DHA | 66mg(29%) |
| DPA | ≥16.5mg(≥7%) |

Ingredients:
Fish oil (Omega 3 essential fatty acids), Bovine Gelatine, Purified water, Lutein (Tagetes Erecta Extract), Safflowr Oil, Vitamin C (calcium Ascorbate),Glycerol(Thickener), Sorbitol (Humectant), Vitamin C (L-Ascorbic Acid), Zinc (Sulphate), Emulsifier, Glycerol Monostearate, Vitis Vinefera Extract containing 5% Resveratrol, Vitamin E (Alphatocopherol), Selenium (as yeasts fortified with Selenium), Zeaxanthin (Tagetes Erecta Extract), Safflower Oil, Colourants: Iron Oxide Black, Iron Oxide Red, Copper (Sulphate), Glutathione.
Please read enclosed leaflet




| | | | | |
| --- | --- | --- | --- | --- |
| Product code: 3355203 | | Price: £14.30 (incl VAT) | | |