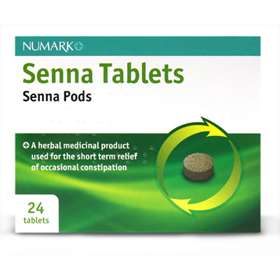 Click on image to enlarge



Price: £1.50 (incl VAT)
Sorry, this item is currently unavailable. Click here to receive notification when this product comes back into stock.
These Numark Senna Tablets contain 24 Senna Pods.
Senna is a herbal medicinal product use for the short term relief of occasional constipation.

Laxatives do not affect the number of calories absorbed from food. This means that these Numark Senna tablets do not help with weight loss.

Please read the enclosed leaflet before use.

Dosage:
Adult and the elderly:
Take two tablets at bedtime when required.
Children over 12 years:
One tablet at night when required.
Not recommended for children under 12 years of age.

Caution:
Do not take this product if you:
Are allergic to any of the ingredients.
Are pregnant or breastfeeding.
Are under 12 years of ages.
Have bowel or stomach problems.
Have a kidney or heart condition.
Do not take more medicine than the label tells you to.
Use for more than 1-2 weeks requires medical supervision.

Consult your doctor:
If symptoms worsen or there is no bowel movement after three days.
Do not store above 25°C.
Store in the original packaging.

Keep all medicines out of the sight and reach of children.

Active Ingredients:
Each tablet contains:
Alexandrian Senna Fruit (Pods) (Cassia Senna L. (C.Autifolia Delile)Fruit) Corresponding to 7.5mg Hydroxyanthracene Gluycosides, Calculated as Sennoside B.