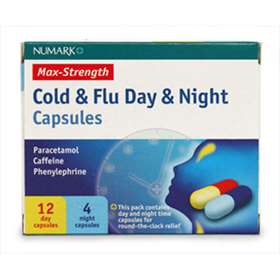 Click on image to enlarge



Price: £1.35 (incl VAT)

Numark cold and flu day and night capsules for for round the clock relief from the symptoms associated with colds and flu. Relieves aches, pains, sore throat, headache, nasal congestion and fever. day capsules will also relieve fatigue and drowsiness.
Relieves common cold and flu symptoms.
Relief for headaches, nasal congestion, aches and pains and sore throats.
The day capsules relieve fatigue and drowsiness.
For adults and children over 12 years.
Directions for use:
Swallow whole with water. Do not chew.

dosage:
Adults and children over 12 years
2 capules every 4-6 hours during the daytime as required, followed by 2 night capsules at bedtime. Leave at least 4 hours between doses.
Do not take more than 8 capsules in 24 hours.
Do not give to children under 12 years.

Warnings:
Do not take more medicine than the label tells you to. If you do not get better, talk to your doctor.

Contains paracetamol:
Do not take anything else containing paracetamol while taking this medicine. Talk to your doctor at once if you have taken too much of this medicine even if you feel well.

Storage:
Do not store above 25°c.
Do not use capsules after the date shown on the pack.
Always keep out of the reach and sight of children.

Ingredients: Each red/yellow day capsule contains:
Paracetamol 500mg, Caffeine 25mg and Phenylephrine Hydrochloride 6.1mg.
Each dark blue/light blue night capsule containsParacetamol 500mg, Phenylephrine Hydrochloride 6.1mg.
Note:
Does not contain a sleep aid.






| | | | | |
| --- | --- | --- | --- | --- |
| Product code: 3709755 | | Price: £1.35 (incl VAT) | | |