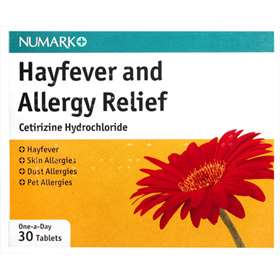 Click on image to enlarge



Price: £1.50 (incl VAT)
Sorry, this item is currently unavailable. Click here to receive notification when this product comes back into stock.
Numark Hayfever and Allergy Relief is used to relieve the symptoms of hayfever and other allergies eg. pet or house dust mite allergies, also for skin allergies such as rash, itching and hives.
For Hayfever.
Skin Allergies.
Dust Allergies.
Pet Allergies.
Contains Cetirizine.
Dosage:
For oral use.
To be swallowed whole with water.
Adults and children aged 12 years and above: Take one tablet once a day.
Children aged 6 to 12 years: Take half a tablet twice a day
Do not give to children under 6 years of age.

Warnings:
If symptoms persist consult your doctor.
Do not use if you are pregnant, breast-feeding or have serious kidney problems.
These Numark Hayfever tablets do not normally cause drowsiness, however, individuals can react differently so if affected, you should not drive or operate machinery.

Ingredients:
Each table contains 10mg of cetirizine hydrochldoride. Also contains lactose.