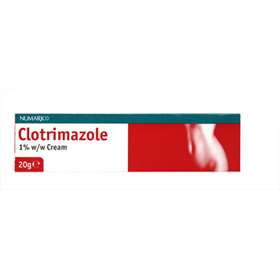 Click on image to enlarge



Price: £1.99 (incl VAT)
Sorry, this item is currently unavailable. Click here to receive notification when this product comes back into stock.
Clotrimazole cream is a cream that is applied to the skin. It contains Clotrimazole as the active ingredient which is an antifungal.
Clotrimazole cream is used for the treatment of skin infections caused by dermatophytes (a group of fungi that cause skin diseases).
Numark clotrimazole cream can be used to treat:
Ringworm infections.
Paronychia (an infection of the fingernail or toenail).
Pityriasis Versicolor caused by a yeast fungus (a common condition which causes small patches of skin to become scaly and dicoloured).
Intertrigo (a rash in body folds).
Nappy rash.
Thrush.
Warnings:
Do not use clotrimazole cream if: You are allergic to clotrimazole or any of the other ingredients of clotrimazole cream listed below.
The cream is not suitable to be used on the scalp or for nail infections. Numark clotrimazole cream contains cetyl alcohol and stearyl alcohol, which may cause a skin reaction (e.g. contact dermatitis). If you are using Numark clotrimazole cream for thrush of the vulva or penis please be aware the cream may cause damage to condoms. You should take other precautions to prevent pregnancy for at least 5 days after using the cream.

Pregnancy and breast-feeding:
If you are pregnant or breast feeding tell your doctor or midwife and they will decide if clotrimazole is the correct treatment for you.

Dosage:
Aldults, children and elderly:
The Numark clotrimazole cream is applied to the affect area two or three times daily.
The duration of treatment depends on the infection being treated.
Thrush infections need to be treated for at least 2 weeks.
Other infections need to be treated for a month.


Ingredients:
The active substance is: clotrimazole 1% w/w.
Other ingredients: Sorbitan Stearate, Polysorbate 60, Cetyl Palmitate, Stearyl Alcohol, Cetyl Alcohol, 2-Octyldodecanol, Benzyl Alcohol, Purified Water.

As with all medicines keep out of the sight and reach of children.