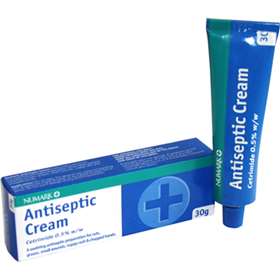 Click on image to enlarge



Price: £1.50 (incl VAT)

Numark Antiseptic Cream 30g is a soothing antiseptic preparation, containing the active Cetrimide 0.5 w/w. This helps to prevent infection to cuts, grazes, small wounds, nappy rash and chapped hands.
30g.
Contains the active ingredient Cetrimide.
Helps to prevent infections.
Suitable for all ages.
Ingredients:
Cetrimide 0.5 w/w, Cetostearyl Alcohol, Liquid Paraffin, Phenoxyethanol, 1-Butyl 4-Hydroxybenzoate, Butyl Parahydroxybenzoate, Ethyl Parahydroxybenzoate (E214), Propyl Parahydroxybenzoate (E216), Methyl Parahydroxybenzoate (E218), Purified Water.

Directions for Use:
For general use, clean the surrounding skin and apply Numark Antiseptic Cream directly, or use a piece of clean lint or gauze to apply the cream. For external use only.

Prolonged and repeated use is not advisable as hypersensitivity (an allergic reaction) is more likely to occur.

Cautions:
Numark Antiseptic Cream contains cetostearyl alcohol which may cause local skin reactions (e.g. contact dermatitis) and E214, E216 and E218 which may cause allergic reactions (possibly delayed).
If you are allergic to cetrimide or any of the other ingredients (listed above) then you must not use this medicine.
If a skin rash or itching occurs stop using Numark Antiseptic Cream and tell your doctor or pharmacist.
Keep out of the sight and reach of children.
Avoid contact with the eyes.
Do not swallow this medicine.
If you notice any other unwanted effects, please go and see your doctor or pharmacist.
Always read the enclosed leaflet thoroughly before using Numark Antiseptic Cream.


| | | | | |
| --- | --- | --- | --- | --- |
| Product code: 2623189 | | Price: £1.50 (incl VAT) | | |