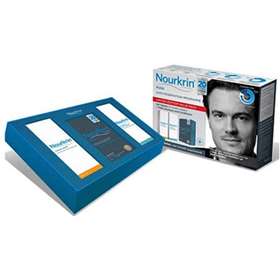 Click on image to enlarge



Price: £104.00 (incl VAT)
Sorry, this item is currently unavailable. Click here to receive notification when this product comes back into stock.
Nourkrin, leaders in hair growth supplements and a well respected brand by our customers have brought out a limited edition value pack.

When you buy 3 months' supply of Nourkrin tablets you'll also get Nourkrin shampoo and Nourkrin conditioner absolutely FREE.

Boost the efficiency of your hair regrowth regime!

Both the Nourkrin shampoo and conditioner are specially formulated to provide an effective setting to promote the growth of thinning hair, whilst also giving you thorough yet gentle cleansing and nourishment. Combined with the 3 months course of Nourkrin regrowth supplement tablets you'll be able to start bringing your hair back to its former glory. Recommended by practitioners, pharmacists and hair care professionals alike, Nourkrin's reputation for delivering real results is well supported and now with this special promotional offer it's even easier for you to get started.

For full product information on all three products in the value pack please follow the links above.