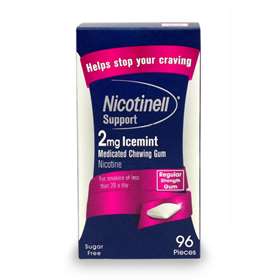 Click on image to enlarge
| | |
| --- | --- |
| Price: £10.99 (incl VAT) | Sorry, this product is no longer available. |
Nicotinell Support Icemint 2mg Gum offers an aid to combat the symptoms of nicotine withdrawal and reduce the cravings of nicotine.

Chewing the nicotine gum is a safer alternative to smoking when stopping smoking completely, cutting down or for situations when you can't or don't want to smoke. The Nicotinell gum also contain a number of ingredients which will improve the whiteness of your teeth.
Regular strength gum.
To aid stopping smoking.
For smokers of less than 20 a day.
Helps to keep teeth whiter.
Contains 96 pieces.
Which gum do i need?
The gum is for smokers smoking less than 20 cigarettes per day. It can also be used by smokers smoking between 20 and 30 cigarettes per day depending on your preference. If you smoke more more than 30 cigarettes per day you should use Nicotinell 4mg medicated chewing gum.
If you need advice before starting to use nicotine gum, talk to your doctor, nurse or pharmacist.

Instructions for Use:
For adults and adolescents over 12 years of age.
Read the instructions carefully before use.
Chew 1 piece of gum when you feel the urge to smoke.
Most people use 8-12 pieces of gum per day.
This product is designed to be chewed, do not swallow.
These gums should not be chewed like ordinary chewing gum.
Read the Nicotinell chewing technique in the leaflet carefully before use.
Only use 1 piece of gum at a time and do not use more than 25 pieces of 2mg gum a day.

Warnings and precautions for use:
Do not use if you are:

A non-smoker or occasional smoker.
Allergic to any of the ingredients.
Consult your doctor, nurse or pharmacist before starting to use these gums if you are:
Under 12 years of age.
In hospital with serious heart disease.
Pregnant or breast-feeding.
Under a dotors care or taking prescribed medicine.

Ingredients:
Gum Base, Calcium Carbonate, Sorbitol (E420), Sodium Carbonate, Sodium Hydrogen Carbonate, Glycerol, Levomenthol, Peppermint Oil, Eucalyptus Oil, Butylhydroxytoluene, Saccharin, Saccharin Sodium, Acesulfame Potassium, Xylitol, Mannitol (E421), Gelatin, Titanium Dioxide (E171), Carnauba Wax, Talc, Water.