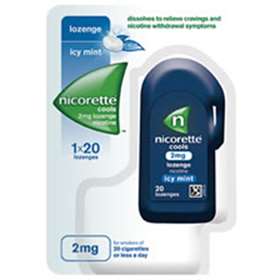 Click on image to enlarge



Price: £4.10 (incl VAT)

Nicorette Cools Icy Mint is subtle and convenient to use whether you're on a night out with friends or at your the workplace.

NICORETTE Cools lozenges uses NICORETTE's dual layer technology. As the lozenge dissolves on your mouth, it delivers therapeutic nicotine to help relieve your withdrawal symptoms and cravings.

The icy mint flavour is also gradually released to provide you with a long-lasting cooling taste. One 2mg lozenge should help you cool each craving on your way to being smoke-free. And you can use up to 15 of them a day, for as long as you need to relieve your symptoms of nicotine withdrawals. If you smoke more than 20 cigarettes a day, a higher strength 4mg lozenge is also available.

Instructions of use:

For adults and children 12 years or over. Place the lozenge on your tongue.
Allow the lozenge to dissolve completely. Move it occasionally from one side of your mouth to the other, and enjoy the cool minty taste.
For best results, suck the lozenge slowly - don't chew or swallow it - and avoid eating or drinking while it's in your mouth. The lozenge may take between 10 and 20 minutes to dissolve.
Caution:
Do not exceed the stated dose.
If your are pregnant talk to your doctor, pharmacist or nurse before using this product. If you need any advise before starting to use this product, talk to your doctor, pharmacist or nurse.
Do not use if you are allergic to any ingredients listed below.

Ingredients:
Contains 2mg nicotine, E421, E415, E955, E950, E470b, E171, winterfresh flavour, sodium carbonate anhydrous, hypromellose, sepifilm gloss, polysorbate 80.





| | | | | |
| --- | --- | --- | --- | --- |
| Product code: 3711314 | | Price: £4.10 (incl VAT) | | |