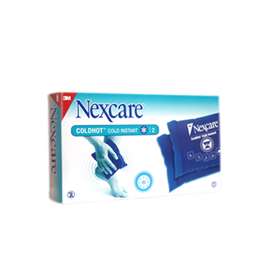 Click on image to enlarge
Nexcare ColdHot Cold Instant Packs by 3M are single use, self activating cold compresses that have been developed to provide instant rapid relief for symptoms caused by acute injuries. Each pack will cool in seconds.
2 instant cold compresses.
Dimensions: 150mm x 180mm.
Provides precise on the spot treatment.
Single use (disposable).
Convenient and easy to use.
Ideal for sports and travel.
Nexcare Premium ColdHot Pack provides an effective form of cold therapy to soothe and treat minor injuries such as ankle sprains and to reduce swelling, pain and inflammation.

Directions for use:
This product consists of two components inside one pouch, which is separated prior to use. Mixing the two components sets off an endothermic reaction, which causes the device to cool rapidly. To activate the pack, firmly press with your thumb the central area of the pouch and then knead the product to spread the cooled liquid evenly throughout the pack.

Caution:
Keep out of sight and reach from children.
Avoid frost bite and do not use for longer than 20 minutes at a time.
Throw away if leaking.
For external use only.
Product code: 3397668

Price: £4.60 (incl VAT)