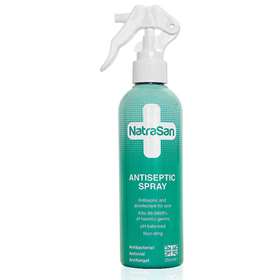 Click on image to enlarge



Price: £9.50 (incl VAT)
Sorry, this item is currently unavailable. Click here to receive notification when this product comes back into stock.
Natrasan first aid spray uses the body's own antiseptic.
This first aid spray (also available in a 100ml bottle) is a must have for any medicine cabinet, first aid kit or travel and holiday item.

Natrasan first aid spray contains pure hypochlorus acid (an effective biocide ) Hypochlorus acid is very much like a chemical produced by the human immune system fight infection.
This first aid spray is skin friendly, can used for many skin problems from acne to bites and wounds. Natrasan first aid spray can also be used as an effective mouthwash.
Kills 99.999% of harmful micro organisms including MRSA, C Difficile and Norovirus..
Suitable for use on babies.
Non Sting Formula.
Can be safely used around the eyes, ears and mouth.
Directions for use:

Wounds and bites:
Spray liberally onto affected area. Allow to dry.

Acne, spots and athletes foot:
Use as above.

Minor burns and scalds:
Run cold water over the area for 10 minutes, spray liberally onto affected area and allow to dry.

Hand and skin disifection:
Spray onto hands/ skin anfd allow to dry naturally.

Hand and soft surface sanitation:
Spray onto affected area for immediate sterilisation.

Ingredients:
Aqua, <5% Salt, <5% Hypochlorous Acid.