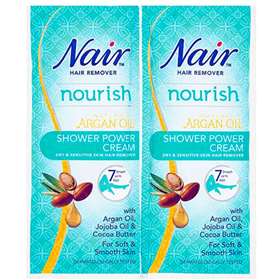 Click on image to enlarge



Price: £1.00 (incl VAT)
Sorry, this item is currently unavailable. Click here to receive notification when this product comes back into stock.
Use during showering for quick, effective hair removal. Skin is softer and smoother due to Nair's unique formula of Argan Oil, Jojoba Oil and Cocoa Butter. Now with pantented odour control and dermatologically tested, Nair Shower Power Cream is gentle to use on legs, bikini and underarms.
Dry and sensitive skin hair remover.
With Argan oil, Jojoba and Cocoa butter.
For soft smooth legs.
Takes 10 minutes.
Smooth for up to 7 days.
Directions for Use:
Ensure skin is clean and dry, then apply a thick, even layer of the cream.
Do not rub in.
Wash your hands immediately after applying the cream.
Wait for at least 1-2 minutes before entering the shower.
In the shower, leave the cream on the skin for a least 3 minutes; try to avoid excessive exposure to water on the areas which are covered by the cream.
After 3 minutes, test a small area.
If the hair does not come away from the test area easily, leave for a few minutes longer do not exceed 10 minutes in all.
Rinse of thoroughly with lukewarm water, using a wet cloth if required. Do not rub or use soap.

Caution:
Contains thioglycolate.
Contains alkali.
Avoid contact with the eyes.
In the event of contact with the eyes, rinse immediately with plenty of water and seek medical advice.
Hair removers can be used anywhere accept around eyes, in nose, ears or on the breast nipples, perianal or vaginal/genital areas.
Avoid contact with other materials as this could lead to damage or discolouration.
Do not use on irritated, sunburned, inflamed or broken skin or on
weak scars.
If you feel burning or stinging, remove the product immediately and rinse well with water.
Store at room temperature.
If stored at a low temperature, crystals may form.
Keep out of the reach of children.

Ingredients:
Aqua • Paraffinum Liquidum • Cetearyl Alcohol • Calcium Thioglycolate • Calcium Hydroxide • Ceteareth-20 • Sodium Hydroxide • Parfum • Slica • Theobroma Cacoa Butter • Argania Spinosa Oil • Simmondsia Chinensis Oil • Amyl Cinnamal • Geraniol • Alpha-Isomethyl Ionone • ButylphenylMethylpropional •