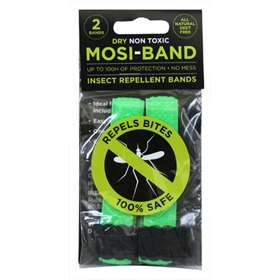 Click on image to enlarge



Price: £3.45 (incl VAT)

Please note that there are various colours so colour may vary!

Mosi-Band are a dry non-toxic insect repellent band which has an easily adjustable clasp so that one size fits all. Mosi-bands help reduce your chances of being a target for annoying mosquitoes.
All natural, Deet free insect repellent.
Ideal for all outdoor activities including swimming.
Can be worn on wrist or ankle.
Protects against bites for up to 100 hours.
Please note that there are various colours so colour may vary!

Directions for use:

1. Remove from the reusable pack and stretch adjustable bands to activate. Rub the bands on exposed areas and then place the Mosi-Bands around your wrists and or ankles.

2. In areas of greater concentration of annoying insects, use multiple Mosi-Bands and place around both wrists and ankles for increased effectiveness.

3. After use, store your Mosi-Bands in the reusable pack. When you need to use them again, repeat step 1.

When used and stored properly, the aroma from Mosi-Bands will last for up to 100 hours of continuous use.

Caution:
In rare cases, some people may experience mild skin irritation or a rash.
If this occurs, wash the affected area with mild soap and water and discontinue use.
If the product is ingested, nausea may occur.
Drink plenty of water and if symptoms continue, contact your GP.
Due to the plastic buckle, children under 6 years old should be supervised by an adult.
Please dispose of this product in any waste bin.

Ingredients

Active ingredients:
Citridiol (cis-and trans-p-methane-3, 8 diol) 19.7%.

Inert Ingredients:
Rubber, Polymide, Polyester 80.3% total 100%

 




| | | | | |
| --- | --- | --- | --- | --- |
| Product code: 3353422 | | Price: £3.45 (incl VAT) | | |