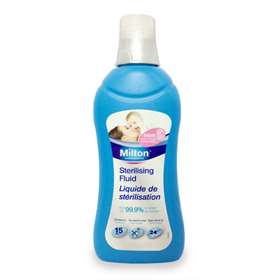 Click on image to enlarge



Price: £4.20 (incl VAT)

Milton Maximum Protection Sterilising Fluid 1 Litre Milton sterilising fluid may be used for all breast feeding equipment and baby feeding accessories: breast pump parts, baby bottles, soothers, teething rings, small plastic toys, plastic cutlery and weaning bowls.
It contains the same active ingredient as the one used to make water drinkable, and the solution continues to sterilise up to 24 hours for repeated uses.
Kills99.9%of germs.
Sterilisers in 15 minutes.
Remains sterile for 24 hours.
New dosage facile.
1 Litre.
Maximum Protection.
Direction for Use:

1.Clean Wash bottle, teats, breastfeeding equipment in warm soapy water, then rinse in cold water.
2.Prepare Solution Fill your sterilising unit with 5L of cold tap water, add 1 cap of fluid.(30ml dilution at 0.6%).
3.Add Items Close the lid. Submerge items under water. In just 15 mins everything is ready to use. No need to rinse with water. Items can stay in the solution until needed.


Cautions and Warnings:
Renew the solution every 24 hours.
Can discolour fabric and clothing.

Active Ingredient:
Sodium Hypochlorite.(CAS:7681-52-9):2% w/w




| | | | | |
| --- | --- | --- | --- | --- |
| Product code: 3430964 | | Price: £4.20 (incl VAT) | | |