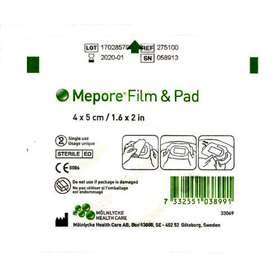 Click on image to enlarge



Price: £0.35 (incl VAT)

Mepore Film and Pad is an absorbent film dressing that consists of a transparent polyurethane film coated with a polyacrylic adhesive and a wound pad. The wound pad is an absorbent viscose with low-adhesive wound contact layer. The film makes it water-resistant and protects from bacterial contamination.
Single 4x5cm dressing.
Water-resistant.
Conforms well to the body contours.
Used for low to moderately exuding wounds, such as surgical wounds, cuts and abrasions.
Easy and simple to use.
Each dressing is presented in sterile wrapping in a peel pouch.
Directions for Use:
Open the sterile pack and remove the dressing. Apply to cleaned, dried wound by removing protective paper to expose the adhesive. Remove the two white paper side taps. Dressing can be left in place for several day depending on the wound. To remove left a corner and gently pull the film along the skin in the direction of the hair.

Warnings:
Do not use if pouch is damaged.
This product and packaging are not made with natural rubber latex.
Do not use if sensitive to acrylic adhesive.
When applying dressing minimise skin tension that could cause mechanical damage to the skin.
Inspect the wound for signs of infection (redness, pain, swelling or unusual odours or discharge). If infection is seen seek advice from a health care professional.
Single use only.
| | | | | |
| --- | --- | --- | --- | --- |
| Product code: 3575412 | | Price: £0.35 (incl VAT) | | |