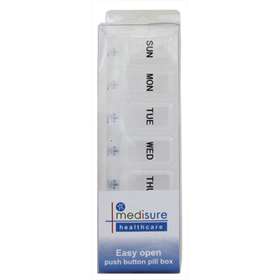 Click on image to enlarge



Price: £2.60 (incl VAT)
Sorry, this item is currently unavailable. Click here to receive notification when this product comes back into stock.
The Medisure easy open pill reminder is a simple and easy way to organise yourself with your medication in mind with boldly labelled compartments for each day of the week. It has a push button mechanism which allows the compartments to be opened and closed with ease.

Directions:
All medicines and tablets must be kept away from children at all times.

Before use, thoroughly wash pill box in warm soapy water, rinse wel and dry carefully with a soft cloth.

Thoroughly inspect all parts of this item before using for the first time and before each further use. Make sure that there are no defects, signs of wear or foreign particles.

Store pill box in a cool dry place away from sunlight and direct heat sources.

Should any part of the pill box become worn or damaged, or should any compartment fail to close securely, the entire unit should be immediately discarded.