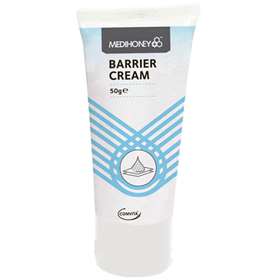 Click on image to enlarge



Price: £8.80 (incl VAT)

Medihoney Barrier Cream 50g flip-top tube
Medihoney Barrier Cream can be applied to intact unbroken skin to help protect skin from moisture and bodily fluids which may cause the breakdown of skin. This is particularly important when caring for the intact skin around wounds. This Medihoney cream provides a barrier that helps protect the intact skin from irritation caused by body fluids and friction. It acts as a protective interface between the skin and dressings. Medihoney Barrier Cream is specially formulated with a range of natural ingredients including Medihoney Antibacterial Honey (Leptospermum sp.) selected for its broad range of antibacterial actions.

When to use Medihoney Barrier Cream:
Use under incontinence pads to protect at-risk skin.
Helps protect skin from damage caused by friction chafing.
To help prevent damage caused to the skin by frequent washing.
For Wound Management:
Protection for intact skin around wound edges to prevent irritation and help provide a better healing environment.
To help prevent maceration of wounds (over-sogginess of a wound).
To help prevent excoriation wounds (wounds caused by abrasion).
Medihoney Barrier Cream has:
NO added colour or fragrance.
NO Lanolin.
NO Parabens.
NO Steroids.
NO Mineral Oils.
Directions for Use:

Please note this product is not for use on broken or compromised skin and not to be used on open wounds.

Apply to clean, dry skin three times a day or as required. Reapply after bathing or at each dressing change. Suitable for use on children.

Cautions and Warnings: Contraindicated for people that have a known sensitivity to honey.




| | | | | |
| --- | --- | --- | --- | --- |
| Product code: 3387644 | | Price: £8.80 (incl VAT) | | |