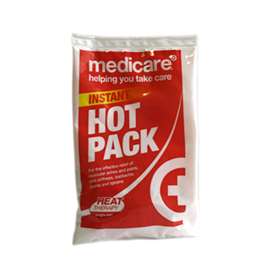 Click on image to enlarge
| | |
| --- | --- |
| Price: £1.79 (incl VAT) | Sorry, this product is no longer available. |
Medicare Instant Hot Pack is a single-use treatment for pain caused by muscular aches and pains.
Single use.

Instantly hot.

No heating required.

Perfect for use when travelling.

Provides relief from joint stiffness, backache, strains and sprains.

Medicare Instant Hot Pack can be used anywhere at any time. The pack instantly heats up after it is activated and can be applied to painful joints and muscles.

The pack doesn't require any heating to stay warm and can be thrown away when you are finished.

Directions for Use: Locate the inner pouch. Hold away from yourself and others, use both hands and squeeze firmly to break the inner pouch. Shake for at least 30 seconds to mix the contents of the pack. Wrap or cover the hot pack with towel or other protective material. Apply to injured area. After use, dispose of hot pack - do not reuse.

Warnings: For external use only - Supervise use on patient. Do not place directly on skin. Do not use during exercise, sports activity or while sleeping. Always place the hot pack in a towel or other protective barrier before applying to the affected area. This pack is for single use only. Do not reheat this pack. Contents harmful if swallowed. Contains Anhydrous Magnesium. If accidentally punctured and solution comes into contact with eyes, skin or open wounds, flush area with water and seek medical attention. Before using on children, senior persons affected by diabetes, cardiovascular, circulatory disorders or skin sensitivity consult your doctor. Keep away from fire, open flame, excessive heat or combustible material. Store at room temperature.

Ingredients: Anhydrous Magnesium, Water.