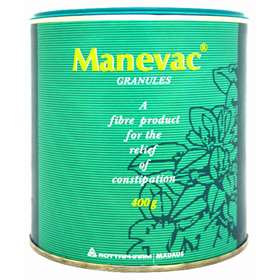 Click on image to enlarge



Price: £13.15 (incl VAT)

Manevac Granules is a laxative containing Ispaghula Seed, Ispaghula Husk (bulk-forming laxatives) and Tinnevelly Senna Pods (a stimulant laxative). Manevac Granules can be used to relieve occasional constipation or to maintain normal bowel action in bed-ridden patients and pregnant women.
400g.
Helps to relieve constipation.
Can be used to maintain normal bowel action in bed-ridden patients and pregnant women.
Safe for use while pregnant.*
This product does not affect the number of calories absorbed from food so it will not help with weight loss.
Directions for Use:
Use for adults (including pregnant woman), the elderly and children over 12 years old.
Take one or two level measuring spoons once daily at night. Place dose onto your tongue and sallow with plenty of liquid (1-2 glasses with each measuring spoon). Do not chew. Drink about 5-10 glasses of fluid everyday while taking this product.

Warnings:
Not recommended for children under 12 years old.
*Avoid taking during the first 3 months of pregnancy.
Diabetics: Each measuring spoon contains approximately 1.04g of sucrose.
Each dose of Manevac may be taken in parts to total up to 5g or as a level measuring spoon.
Do not take this product without the recommended liquid.
Keep out of sight and reach of children.
Always close lid after use.
Do not exceed stated dose.
If symptoms persist cinsult your doctor.
*Read leaflet thoroughly before use.* This leaflet can be read here.

Ingredients:
Each level measuring spoon (5g of granules) contains 2.6g of Ispaghula Seed, 0.11g of Ispaghula Husk and 0.34-0.66g of Tinnevelly Senna Pods corresponding to 15mg sennosides (calculated as sennoside B).
The other ingredients are: caraway oil, sage oil, peppermint oil, acacia, talc, iron oxides (E172), hard paraffin, liquid paraffin and sucrose.




| | | | | |
| --- | --- | --- | --- | --- |
| Product code: 2033512 | | Price: £13.15 (incl VAT) | | |