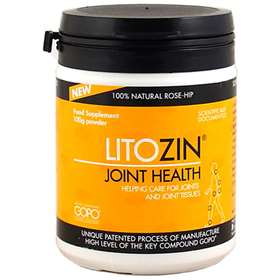 Click on image to enlarge



Price: £14.99 (incl VAT)
Sorry, this item is currently unavailable. Click here to receive notification when this product comes back into stock.
LitoZin® Joint Health Powder; For the care of joints and joint tissues.
Scientifically documented and patented rose-hip powder.
Contains 100% natural rose hip.
Free from yeast, gluten, wheat, dairy and lactose.
Suitable for people with diabetes.
About Rose hip:
Rose hip has been well documented for its healing qualities; from improving rheumatoid arthritis, to treating headaches and even preventing urinary bladder infections. Rose hip contains a high level of Vitamin C, antioxidants vitamins A,D and E, Iron and essential fatty acids.

About LitoZin®:
Long standing Scandinavian research projects, together with published scientific studies have established that GOPO®, a key component of the rose-hip (Rosa canina), used in LitoZin® Joint Health, may play a valuable role in the care of joints and joint tissues.
A special manufacturing process is used to ensure that LitoZin® Joint Health contains a high level of GOPO® resulting in a product with unique qualities.
By keeping up gentle exercise, a healthy lifestyle and taking LitoZin®, it is possible you can keep your joints free and flexible.

Directions:
For the 1st 3-5 weeks: 2.5g (1 spoon) twice a day.
Maintenance dosage: 2.5g (1 spoon) once a day.

Swallow with water or sprinkle over food.
Food supplement should not be used as a substitute for a varied diet.
Do not exceed the recommended intake.

Ingredients: Rose-hip powder.
Content per spoon (enclosed): 2.5g scientifically documented rose-hip powder.