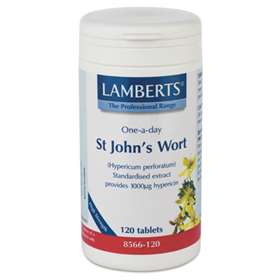 Click on any image to enlarge
| | |
| --- | --- |
| Price: £14.99 (incl VAT) | Sorry, this product is no longer available. |
St John's Wort (Hypericum perforatum), One-A-Day.

Lamberts St John's Wort supplement is most commonly used for treating mild depression and fighting off viral and bacterial infections. However, studies show it may help treat PMS, chronic fatigue syndrome and fibromyalgia. Can also help relieve chronic pain, soothe haemorrhoids and aid weight loss.


A yellow oval coated tablet.

120 tablets.

A supplement for treating mild depression.

Fights off viral and bacterial infections.

Can help with areas of depression such as, Seasonal Affective Disorder and Premenstrual Syndrome.

St John's Wort is a perennial plant native to many parts of the world, including European countries and the USA. It prefers sunny areas and has numerous bright yellow flowers. Supplements are made from the flowers and are most frequently used for mild depression. In the UK it is now one of the most recommended herbs, a gentle alternative to conventional medicines.

One of the most important compounds found in St. John's Wort is Hypericin and it is this compound that is used as the standardisation marker in the extract used in this Lamberts product. Each tablet supplies 1000µg hypericin, a healing pigment.

The herb has been proven to have a significant positive effect on those who suffer from mild depression. It may also be helpful with fighting bacterial and viral infections and conditions that are related to depression such as seasonal affective disorder, premenstrual syndrome and chronic fatigue syndrome. Research has been done into the role of the supplement in conditions such as herpes simplex, influenza and glandular fever and the results have shown that it may play a key part in combating these.

Although scientist haven't been able to find out exactly how it works, it is believed to improve your moods and emotions by enhancing brain levels of serotonin and other neurotransmitters.

Lamberts St. John's Wort supplement was one of the first St John's Wort products available in the UK and Lamberts have worked closely with the specialist manufacturers of this herbal extract to ensure consistent quality and potency is assured.

IMPORTANT: St Johns wort may affect prescribed medicines including the contraceptive pill. For an alternative to St. John's Wort that does not affect medication you can try Lamberts Rhodiola Rosea.

Dosage: 1 tablet daily.

Disintegration Time: Less than 1 hour.

Suitable for vegetarians.

Caution: This product is not recommended for pregnant or lactating women.

Caution: Patients taking any prescribed medicines should consult their doctor or pharmacist before taking St.Johns Wort as it may affect the way that they work.

Ingredients per tablet: St John's Wort (provided by 340mg of an 5:1 extract) 1700mg, providing Hypericin 1000µg. Tableted with: Dicalcium Phospate, Cellulose, Croscarmellose Sodium, Hydroxypropyl Methycellulose, Silicon Dioxide, Stearic Acid, Titanium Dioxide, Magnesium Stearate, Glycerin, Iron Oxides.