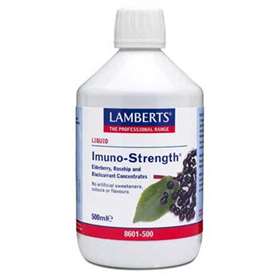 Click on image to enlarge



Price: £13.85 (incl VAT)
Sorry, this item is currently unavailable. Click here to receive notification when this product comes back into stock.
Lamberts Imuno-Strength Liquid is a tasty natural blend of elderberry, rosehip and blackcurrant concentrates carefully formulated to retain the nutritive properties of the fruit. Recommended to those 5 years and over whose immune system is under pressure and requires a boost.

Elderberry, rosehip and blackcurrants are all exceptionally rich sources of important compounds called flavonoids, including anthocyanidins that are known potent antioxidants.
A dark red liquid.
Daily concentrate for adults and children over 5 years old.
Supports those with a compromised immune system.
Offers a boost to those who are feeling run down and generally "under the weather".
High concentration of vitamin C and antioxidants.
To truly maximise antioxidant defences, plant-derived antioxidants should be incorporated into health regimes. The flavonoid family found in these three fruits is uniquely positioned for such a task, since they physiologically active in both lipid and aqueous environments in the body, which makes its overall antioxidant properties many times that of vitamin C or vitamin E. Moreover, thousands of studies spanning decades of research consistently and repeatedly show that maintaining a high antioxidant defence system lowers the risk of disease as well as stimulating the immune system.

Usage and administration:
Children 5 to 15 years: 1 teaspoon (5ml) daily.
Adults: 2 teaspoons (10ml) daily.
Shake well before use.

Storage Instructions:
Store in a cool dry place, once opened keep refrigerated and use within 8 weeks.

Suitable for vegetarians.

NOTE:
Lamberts Imuno-Strength Liquid 500ml is a natural product, therefore, it may vary slightly in colour and consistency from bath to batch.
This does not affect the quality or efficacy of the juice.

Ingredients:
Elderberry Juice Concentrate, Red Grape Juice, Rose Hip Juice Concentrate, Blackcurrant Juice Concentrate, Potassium Sorbate.