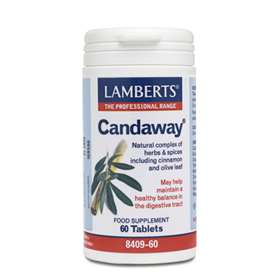 Click on image to enlarge



Price: £12.40 (incl VAT)
(Buy any 3 or more Lamberts products and save 5%)
Price: £12.40 (incl VAT)
(Buy any 3 or more Lamberts products and save 5%)
Lamberts Candaway is a unique, high potency formula that includes cinnamon bark in combination with olive leaf, fennel seed and cardamom oil and is an essential part of any anti-candida programme, designed to help maintain a balanced digestive tract.
An opaque brown soft capsule.
60 capsules.
A high potency Lamberts Candaway formula for preventing and treating candida yeast infections.
Helps to maintain a healthy balance in the digestive tract.
Lamberts Candaway contains cinnamon bark, which has antimicrobial and anti-fungal properties.
Under normal circumstances there is a carefully controlled balance of yeasts and bacteria in our digestive system that acts to maintain health. One of these organisms is a type of yeast termed candida albicans and is generally no problem to us. However, under certain conditions there can be an uncontrolled overgrowth of this yeast. This may affect the entire body and can result in a wide range of symptoms including bloating, food intolerance, Athletes foot, headaches and eczema.

Most practitioners generally recommend a change in diet that excludes yeast and sugar, along with a supplement programme designed to help readdress the balance in the digestive tract, and heal the gut, as well as support the immune system.

When using herb and spices in Lamberts formulas, Lamberts always ensure that they use the correct species and the relevant part of the plant. This is why they have specifically used cinnamon bark since it is the bark, as opposed to the oil, that is principally documented for cinnamon's therapeutic qualities, including its antimicrobial and antifungal activity.

For a free Anti-Candida Diet Sheet, please call the Lamberts Technical Advice Line on (+44) 01892 554314.

Dosage:
2 capsules daily.

Disintegration Time:
Less than 30 minutes.

Caution:
Lamberts Candaway is not recommended for pregnant or lactating women.

Ingredients per 2 capsules:
Cinnamon Bark (provided by 750mg of a 5:1 extract) 3750mg, Olive Leaf (provided by 200mg of a 4:1 extract) 800mg, Fennel Seed (provided by 100mg of a 4:1 extract) 100mg.

Encapsulated with: Sunflower Seed Oil, Capsule Shell (Gelatin, Glycern, Colours: Iron Oxides),

Emulsifier: Sunflower Lecithin, Glyceryl Monostearate.




Product code: 8409-60
Price: £12.40 (incl VAT)
(Buy any 3 or more Lamberts products and save 5%)