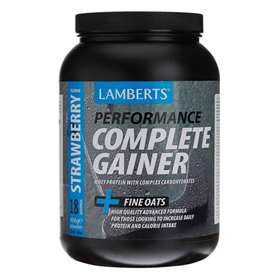 Click on image to enlarge



Price: £17.95 (incl VAT)
(Buy any 3 or more Lamberts products and save 5%)
Price: £17.95 (incl VAT)
(Buy any 3 or more Lamberts products and save 5%)
Ideal for sports enthusiasts to gain both weight and strength
18 x 100g servings per tub (1816g)
One serving a day is enough for most training regimes
If you are training extra hard and need to keep your weight up, two servings a day is fine
35g of protein per serving
8g of Branch Chain Amino Acids (BCAA) per serving
Serving Guide:
Add 4 level scoops (100g) to 500ml of water or milk. For the best results use a blender. Take one serving per day between main meals. Two servings can be taken on training days if required.

Caution:
Do not take if pregnant or breastfeeding.
May contain traces of nuts.




Product code: 7005-1816
Price: £17.95 (incl VAT)
(Buy any 3 or more Lamberts products and save 5%)