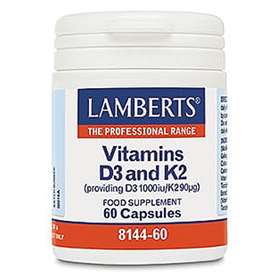 Click on image to enlarge



Price: £13.60 (incl VAT)
(Buy any 3 or more Lamberts products and save 5%)
Price: £13.60 (incl VAT)
(Buy any 3 or more Lamberts products and save 5%)
Lamberts Vitamins D3 and K2 provides a full 1000iu (25µg) of natural vitamin D3 cholecalciferol) for healthy teeth and bones and immune system function. Lamberts Vitamins D3 and K2 provides an impressive 90µg of vitamin K2 in the form of Menaquinone (MK-7) which is also important for bone health.
Small easy to swallow capsules.
Suitable for vegetarians.
Directions:
Take 1 to 2 capsules daily with a meal, or as directed by a practitioner or pharmacist.
Do not exceed recommended daily dose.

Ingredients:
Capsule Shell (Modified Corn Starch, Glycerol, Gelling Agent: Carrageenan, Colour: Iron Oxide, Sodium Carbonate), Sunflower Seed Oil, Vitamin K2 (Antioxidants: alpha Tocopherol Acetate & Rosemary Extract), Vitamin K2 as Menaquinone-7), Vitamin D3 (Vitamin D3, Antioxidant: dl alpha Tocopherol).

Caution:
Do not take if pregnant or breast feeding. If you are taking anti-coagulants (blood thinners), do not take 2 capsules daily, except on the advice of a doctor.
Food supplements should not replace a balanced diet and a healty lifestyle.





Product code: 8144-60
Price: £13.60 (incl VAT)
(Buy any 3 or more Lamberts products and save 5%)