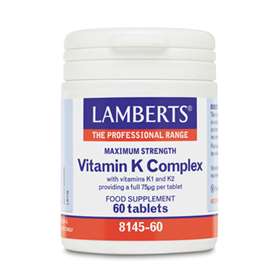 Click on image to enlarge
| | |
| --- | --- |
| Price: £13.20 (incl VAT) | Sorry, this product is no longer available. |
Lamberts Maximum Strength Vitamin K Complex 60 Tablets contain crucial cofactors in the activation of certain proteins in the body. Vitamin K is the umbrella term for a group of fat-soluble compounds comprising vitamin K1 and K2. Vitamin K1, also known as phylloquinone, is obtained in the diet from green leaves, broccoli, brussel sprouts and plant oils like rapeseed and olive oils, and makes up 90% of our K intake. Vitamin K2 (a family of menaquinones) is produced in smaller quantities by the friendly bacteria in the digestive tract.

In order to achieve optimal calcium regulation, evidence from recent studies has highlighted the importance of a regular intake of both vitamin K1 and K2. Experts now believe that a sub-clinical vitamin K deficiency, that is, one that is not great enough to hinder blood clotting capacity, could be wide-spread and could contribute to osteoporosis, and other age-related diseases.
60 tablets.
Contributes to the maintenance of normal bone.
Combines vitamin K1 (phylloquinone) and K2 (a family of menaquinones).
Contains crucial cofactors in the activation of certain proteins in the body.
Binds calcium in the body (gamma-carboxylation).
Aids the proteins in the bone and arterial tissue.
May help lower the risk of Osteoporosis, Cardiovascular Disease, Cancer and other chronic diseases.
Suitable for vegetarians.
Vitamin K Dependent proteins (VDK), are required for blood coagulation and other important processes like bone metabolism, vascular health and the regulation of cell growth and apoptosis. In order to do their job, the proteins in question need to bind calcium and this is where vitamin k comes in to affect.
Vitamin K allows the the glutamic acid residues within the proteins to undergo a process called gamma-carboxylation, which enables them to attract and hold onto calcium. Without sufficient vitamin K, these proteins are 'undercarboxylated' - they cannot bind calcium and therefore remain inactive.

Directions for Use:
Take 1 Lamberts Maximum Strength Vitamin K Complex Tablet with a meal, or as directed by a practitioner or pharmacist.

Ingredients:
DiCalcium Phosphate, Cellulose, Vitamin K Complex (Vitamin K2 as Menoquinone-7 with Antioxidant: Alpha Tocopherol Acetate, Vitamin K1), Silicon Dioxide, Stearic Acid, Magnesium Stearate.