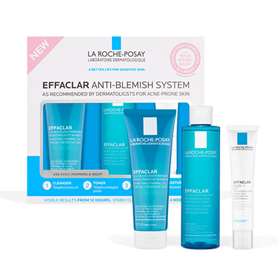 Click on image to enlarge



Price: £21.99 (incl VAT)
(Buy any 3 or more La Roche-Posay products and save 5%)
Price: £21.99 (incl VAT)
(Buy any 3 or more La Roche-Posay products and save 5%)
Fantastic value! La Roche Posay Effaclar Anti-Blemish Skin Care Trio. An ideal starter kit for sensitive skin that is prone to spots and blemishes.


The Effaclar 3-Step Anti-Blemish System inspired by dermatologists is a simple yet effective skin routine designed to help you achieve clearer-looking skin. Effaclar anti-blemish system provides the simple skincare principle to cleanse, tone, correct and hydrate.
Cleanse Effaclar Purifying Gel cleanses to help remove impurities that may lead to the appearance of blemishes and reduces excess sebum, leaving skin feeling clean and fresh.
Tone Effaclar Clarifying Toner mattifies, refines skin texture and helps reduce the appearance of pores.
Correct & Hydrate Effaclar Duo Anti-blemish Cream is clinically proven to correct by reducing the appearance of blemishes and red and brown marks. Provides 24 hour hydration and creates an excellent base for makeup.
Gentle enough to use twice daily.
Visible results from day 1.
Ideal for sensitive skin.
Non Comedogenic (does not clog pores.)
Evens skin tone.
Up to 6 weeks supply.
Contents:
1 125ml Effaclar purifying foaming gel cleanser.
1 200ml Effaclar claryfying toner.
1 40ml Effaclar duo anti blemish cream.





Product code: 45856H
Price: £21.99 (incl VAT)
(Buy any 3 or more La Roche-Posay products and save 5%)