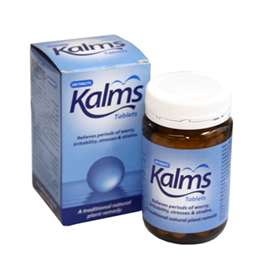 Click on image to enlarge



Price: £6.70 (incl VAT)
Sorry, this item is currently unavailable. Click here to receive notification when this product comes back into stock.
Kalms - a natural solution to coping with stress and strain.

Kalms is a traditional herbal remedy that can help ease periods of stress, worry, irritability and emotional upset. They can also relieve symptoms of the menopause, such as hot flushes, wakefulness and cold sweats.

Kalms tablets contain a unique blend of pure plant extracts proven to ease the stresses and strains of everyday life. They are non-drowsy, but help you regain a natural sleep pattern, leaving you refreshed for the day ahead.
Sugar-coated tablet containing: Hops powder 45mg, Gentian powdered extract 90mg, Valerian powdered extract 135mg.
To relieve periods of worry, irritability, and exogenous stresses and strains.
For the relief of worry, wakefulness and other symptoms associated with the menopause.
To help promote natural sleep.
Adults and elderly: 2 tablets 3 times a day with water after meals
Children: not to be given
Kalms is also available as Kalms 100 and Kalms Sleep 50...