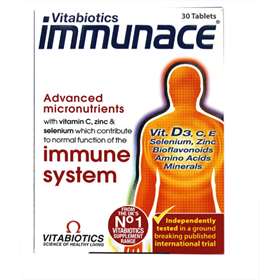 Click on image to enlarge



Price: £5.75 (incl VAT)
Sorry, this item is currently unavailable. Click here to receive notification when this product comes back into stock.
Immunace Tablets 30 provides effective levels of antioxidants plus vitamin C, D3 and E, which circulate in the body to assist your immune system and increase the level of protective substances.
30 tablets.
Supports the body from free radicals and maintains healthy immune resistance.
Contains trace minerals and amino acids for the production of more antioxidant molecules.
No artificial colours or preservatives.
Gluten free.
No salt, lactose, or yeast.
Suitable for vegetarians.
Immunace Tablets protect the body's DNA, cells and from the damaging effects caused by free radicals. Nutrients and vitamins such as betacarotene, zinc and selenium are all co-factors in the 300 of the body's antioxidant enzymes, Superoxide Dismulate (SOD), Catalase and Glutathione Peroxidase (GShPx). These work to eliminate harmful chemicals, including free radicals and peroxides.
Free Radicals and their effects on Cell DNA
Free radicals are found naturally in the environment, caused by pollution, sunlight, cigarette smoke, and other factors in day-to-day life. They are harmful to the human body as they can damage cell DNA.
DNA is the genetic "manual" found in all of the body's cells. If DNA is damaged and then not correctly repaired, Cells may get the wrong instructions and start to multiply beyond the body's control.
Maintaining a Healthy Immune System
Undoubtedly the best way to support the immune system is to maintain your general health with a balanced diet, sufficient sleep and exercise;
Consume a minimum of 5 portions of fresh fruit and vegetables every day. They are rich in vitamins, antioxidants and nutrients to help maintain a healthy immune system.
Avoid foods with high fat content or refined sugars, as these can affect normal immune function.
Avoid stress where possible. Stress can make your body feel run down.
Get plenty of sleep. Failing to do so can reduce the effectiveness of your immune system by up to 50%.
Stimulate the body's circulation through regular exercise, as this helps to maintain a strong immune system.
Quit smoking as smoke contains billions of free radicals which damage the nasal lining and can also affect your immune resistance.
Diet is one of the most important factors for supporting the body's immune system. For those who cannot maintain a varied and balanced diet, Immunace may potentially safeguard those missing micronutrients required for;
The Short Term: to help maintain your resistance against infection and replacing the vitamin C lost during colds.
The Long Term: increasing the body's level of protective substances for long term cell protection.
Ingredients:
Vitamin C (Ascorbic Acid Hydroxypropylmethylcellulose), Magnesium Hydroxide, Vitamin E (DL-Alpha Tocopheryl Acetate Silicon Dioxide, Purified Talc.), Bulking Agents: Dibasic Calcium Phosphate & Microcrystalline Cellulose, Citrus Bioflavonoids, Tablet Coating (Hydroxypropylmethylcellulose, Ethyl Cellulose, Propylene Glycol, Purified Talc, Natural Source Colours: Titanium Dioxide & Iron Oxides), L-Cysteine, L-Carnitine Tartrate, Zinc Sulphate, Polyvinylpyrolidone, Thiamin (Vitamin B1 as Mononitrate), Niacin (Nicotinamide), Anti-Caking Agents: Purified Talc, Magnesium Stearate & Silicon Dioxide, Pantothenic Acid (as Calcium Salt), Ferrous Fumarate, Polyvinylpolypyrolidone, Natural Mixed Carotenoids (Betacarotene, Gamma-Carotene, Citroxanthin, Beta-Zeacarotene, Antioxidant: DL-Alpha Tocopherol, Starch), Vitamin B6 (Pyridoxine HCl), Manganese Sulphate, Vitamin A (Acetate Maltodextrin, Gum Acacia, Starch, Antioxidant: DL-Alpha Tocopherol), Riboflavin, Ethyl Cellulose, Potato Starch, Vitamin B12 (Cyanocobalamin Dicalcium Phosphate), Vitamin K1 Gum Acacia, Glucose Syrup, Tricalcium Phosphate, Copper Sulphate, Vitamin D3 (Cholecalciferol Medium Chain Triglycerides, Colloidal Silica, Purified Talc, Maltodextrin, BHA & Ethylcellulose), Chromium Trichloride, Folic Acid (as Pteroylmonoglutamic Acid), Sodium Selenate, Potassium Iodide.

Directions for Use:
Take one Immunace Tablet per day with your main meal.
Swallow with water or a cold drink.
Do not chew.
Only to be taken on a full stomach.

Cautions:
Do not exceed the recommended intake.
Store below 25C in a dry place.
Keep out of the reach and sight of children.
Seek professional guidance before using if you are under medical supervision, pregnant, breast-feeding, or suffer from food allergies.
Immunace contains contains iron, which if taken in excess by very young children may be harmful.
Immunace and other such food supplements must not replace a balanced diet and healthy lifestyle.