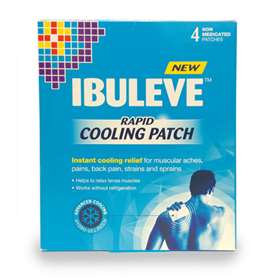 Click on image to enlarge



Price: £4.59 (incl VAT)
Sorry, this item is currently unavailable. Click here to receive notification when this product comes back into stock.
Ibuleve Rapid Cooling Patch provides instant evaporative cooling relief for muscular aches, pains, back pain, strains and sprains.
Helps to Relax Tense Muscles
4 Non Medicated Patches
Works Without Refrigeration
Directions for Use:
Open the re-sealable laminate sachet by carefully cutting or tearing it where indicated along the top edge.

Remove one Ibuleve Rapid Cooling Patch, then fold the top of the sachet twice to reseal it. This is important to prevent the remaining patch from drying out.

Remove and discard the transparent film from the back of the patch.

After ensuring the skin on application site is dry, apply the sticky side of the patch to the affected area. The cooling effect will be felt rapidly after application and will last for up to 3 hours.

Use each patch for as long as needed, then remove and discard with the normal household waste.

For best results use each patch only once.

It is generally a good idea to wash hands after applying or removing the patch.

Precautions :

FOR EXTERNAL USE ONLY.

Keep the patch away from eyes, nose and mouth.
Do not apply to areas of broken or irritated skin.
Do not use in cases of allergy (hypersensitivity) to the patch.
This product is not recommended for infants, and use in young children should be supervised.
If your symptoms persist, discuss this with your doctor or pharmacist.
Ibuleve Rapid Cooling Patch may be used at the same time as medicines, including painkillers, taken by mouth. Do not apply the patch on top of any topical medication.
You can use this product if you are pregnant or breast-feeding. The ingredients have been in widespread use in this and similar preparations for many years, without significant adverse reports. However, safety trials have not been conducted.
Keep out of the sight and reach of children.

Store in a cool dry place.

Always reseal any opened sachet by folding the top of the sachet twice. This is important to prevent the remaining patch from drying out.

Do not use after the use by date.