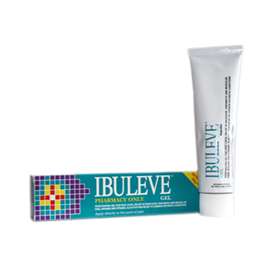 Click on image to enlarge



Price: £9.50 (incl VAT)
Sorry, this item is currently unavailable. Click here to receive notification when this product comes back into stock.
Ibuleve Gel relives pain cause by swelling/inflammation in the joints and muscles. The gel contains Ibuprofen 5% and relieves pain caused by the following conditions:
Backache.
Rheumatic and Muscular pain.
Sprains and strains.
Common arthritic conditions.
Ibuleve Gel is now available in this larger pack size. The pack also includes a tube squeezer for ease of use and to ensure you don't waste any. The gel contains 5% of Ibuprofen which belongs to a group of anti-inflammatory medicines. The gel penetrates the skin quickly and provides effective pain relief.

Directions for Use:
Lightly apply a thin layer of the gel over the affected area. Massage gently until completely absorbed. Wash hands after use, unless treating them. Re-apply as required, up to twice more daily, or as instructed by doctor. Do not exceed stated dose. If symptoms persist, consult your doctor or pharmacist.

Warning:
Although there is less risk of Ibuleve causing the complications that sometimes arise when ibuprofen (or similar anti-inflammatory painkillers) are taken by mouth, patients with asthma, an active peptic ulcer or a history of kidney problems, should seek medical advice before use, as should patients already taking aspirin or other painkillers.
Not normally recommended for children under 12 years.
Not to be used if allergic to any of the ingredients, or if you have experienced problems with aspirin, ibuprofen or related painkillers (including when taken by mouth).
Not to be used during pregnancy or breast feeding.
Keep away from broken skin, the eyes, nose and mouth.

Ingredients:
Ibuprofen 5.0% w/w, Propylene glycol 2.0% w/w, IMS; Carbomer; Propylene Glycol; Diethylamine; Purified Water.