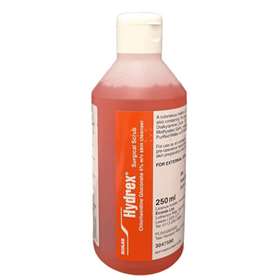 Click on image to enlarge



Price: £5.50 (incl VAT)
Sorry, this item is currently unavailable. Click here to receive notification when this product comes back into stock.
For the use as an antiseptic hand wash, a pre-operative hand scrub and a pre-operative skin preparation prior to surgery.

Directions:

Medical and nursing staff:
Antiseptic hand-wash - Wet the hands and forearms, apply 5ml of hydrex surgical scrub and wash for 1 minute. Rinse thoroughly and dry.
Pre-operative surgical scrub - Wet the hands and forearms, apply 5ml of hydrex surgical scrub and wash for 1 minute, cleaning the fingernails with a brush. Rinse and repeat the procedure using a further 5ml of Hydrex surgical scrub and wash for 2 minutes. Rinse thoroughly and dry.
Patients:
Pre-operative skin preparation - Wash the whole body with 25ml of Hydrex surgical scrub on at least two occasions, usually the day before and on the day of the operation. Rinse thoroughly and dry.
Do not use in body openings (e.g. nose and ears).
Use with care in newborn babies especially those born prematurely. Hydrex surgical scrub may cause chemical skin burns.
Avoid contact with eyes, ears, brain and meninges.

Actions to be taken if swallowed:
If you accidentally swallow the solution you should go to the accident and emergency department of your nearest hospital.

Possible side effects;
Chlorhexidine can very rarely cause hypersensitivity including anaphylactic shock and allergic reactions. If any of these reactions occur, stop using the product and seek medical attention immediately.

Storage:
Do not store above 25°c.
Keep out of the reach and sight of children.
Do not use after the expiry date on the label.

Ingredients:
A cutaneous solution containing; Ponceau 4R, Dialkylamine oxide, Glycerol, industrial methylated spirit, Hydroxyethyl cellulose, Purified water, Perfume.