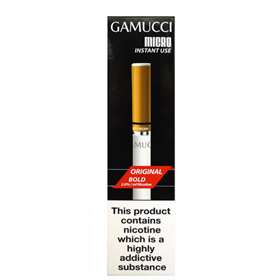 Click on image to enlarge



Price: £3.99 (incl VAT)
Sorry, this item is currently unavailable. Click here to receive notification when this product comes back into stock.
Gamucci Bold Micro Instant Use electronic cigarette 2% nicotine per ml has replaced Gamucci Continental 500 Original Regular 1.6% per ml Nicotine Disposable Electronic Cigarette.

Gamucci Micro Instant Use 2.0% per ml Nicotine Disposable Electronic Cigarette. The latest evolution to our hugely successful disposable Gamucci range. An easy and convenient single piece unit equivalent to almost 2 packs of traditional cigarettes. An ideal introduction to the electronic smoking experience at a most economical cost.
2.0% per ml Nicotine.
Pre-charged and ready to vape.
Original bold flavour
Like smoking but better for you.
Direction for Use:
Remove the Gamucci disposable cigarette from the pack. Remove the protective stickers from the top mouth piece and main body air inlet. Simply inhale on the mouth piece to use the device. Ensure that you do not cover the air inlet hole on the main body while using the device. The Gumucci Micro Instant Use allows you to "smoke" without being exposed to the dangers of tobacco, tar and over 4000 chemicals found in traditional cigarettes.

Cautions:
toxic if swallowed- seek medical advice if you feel unwell. Wash hands thoroughly after handling.
keep out of the reach and sight of children.
This product is intended only for purchase and use by adults of legal age. Not for use by pregnant and nursing women.

Ingredients:
may contain traces of allergens.
USP Propylene Glycol, Usp Glycerine, natural and artificial flavourings, USP Nicotine (2.0%) EC200-193-3.

Warning:
this product contains nicotine which is a highly addictive substance.