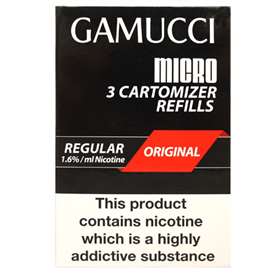 Click on image to enlarge



Price: £2.50 (incl VAT)
Sorry, this item is currently unavailable. Click here to receive notification when this product comes back into stock.
Gamucci Micro 3 Cartomizer Refills 1.6 % Nicotine Regular Original Refill cartridges for use with all micro batteries. Gamucci Micro Electronic Cigarette Cartridges come in a pack of 3 cartridges and have an original tobacco flavour, they are easy to use and have a variety of flavours.
3 Cartridges.
Easy to use.
Original tobacco taste.
Each cartridge is equivalent to 12-15 cigarettes.
Regular 1.6% per ml Nicotine.
Directions of use:
Remove used cartridge and dispose safely.
Remove the rubber cap of the new cartridge and insert it into the Gamucci Cigarette.

Cautions:
Toxic if swallowed.
Seek medical advice if you feel unwell.
Wash hands thoroughly after handling.
Keep locked away out of the reach of children.
Please refer to the leaflet instructions for further information.
May contain traces of allergens.
Only intended for purchase and use by adults of legal age. Not for use in pregnant and nursing women.

Ingredients:
USP Propylene Glycol, USP Glycerine, Natural and Artificial Flavourings, USP Nicotine (1.6%/ml) EC200-193-3

This product contains nicotine which is highly addictive substance.