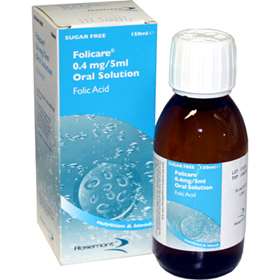 Click on image to enlarge



Price: £2.29 (incl VAT)
Sorry, this item is currently unavailable. Click here to receive notification when this product comes back into stock.
Folicare 0.4mg/5ml Sugar Free Oral Solution 150ml helps to prevent your baby being born with neural tube defects.


Oral solution.

Sugar Free.

Take from when you are trying to conceive.

150ml Bottle.


Directions of use: One teaspoon (5ml) to be taken daily, giving a dose of 0.4mg.

To be taken to help prevent your baby being born with Neural Tube Defects e.g Spina Bifida if there is no family history of this condition.

Folicare should be taken by women from when they start trying to become pregnant and continue until the twelfth week after conception.

See Leaflet for further information.

Ingredients: mannitol, glycerol, methyl hydroxybenzoate, ethyl hydroxybenzoate, propyl hydroxybenzoate, sodium dihydrogen phosphate dihydrate, disodium hydrogen phosphate, strawberry flavour, disodium edetate and purified water.