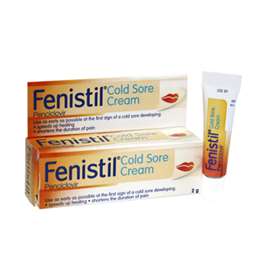 Click on image to enlarge



Price: £5.00 (incl VAT)

Fenistil Cold Sore Cream is proven to be effective when applied as early as possible at the first sign of a cold sore developing.

Fenistil Cold Sore Cream is for the treatment of cold sores (herpes labialis) containing the active ingredient Penciclovir 1%. Penciclovir is an antiviral medicine which stops the cold sore virus multiplying.

Applying Fenistil Cold Sore Cream means your cold sore heals faster and the duration of the pain will be shorter. The time that your cold sore is infectious will also be shorter, although applying Fenistil Cold Sore Cream will not stop you spreading your cold sores to another person.

Fenistil Cold Sore Cream:
speeds up healing
shortens the duration of pain
shortens the time the cold sore is infectious
Fenistil Cold Sore Cream should not be used:
If you are allergic to penciclovir, famiciclovir or any other ingredient in the cream.
Inside your mouth, in or near your eyes, or on your genitals. It should only be applied to cold sores on the lips and surrounding skin.
Please see your doctor before using this medicine if:
You are unsure that your sore is a cold sore.
Your cold sore is particularly severe.
You have a condition or are receiving treatment which weakens your immune system.
You are pregnant or breast feeding.
| | | | | |
| --- | --- | --- | --- | --- |
| Product code: FEN312N | | Price: £5.00 (incl VAT) | | |