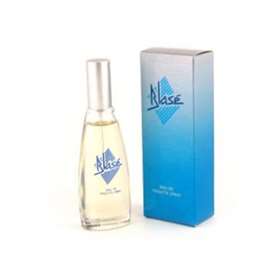 Click on image to enlarge
A 70s original Blasť was first brought to the world under the Max Factor name in 1975. After being dropped by Max Factor as they sought to build on the successes of their make up lines, Eden Classics took up the Blasť mantle, recapturing it's essence and repackaging it for a more discerning modern day market.

Offering now as it did then, a cheaper alternative to high-end feminine floral musks, Blasť gives a scent with classiness way beyond it's modest price tag.

Well regarded throughout the years, Blasť carries a reminiscence of an era when women were much more limited in perfumery choices. Reviewed by women of today Blasť, beyond it's nostalgic pedigree, holds it's own amidst a market saturated with persistent designer repurposing and celebrity band-wagon jumping perfumery cash-ins.

Considered a true classic and a popular favourite with our customers, at Express Chemist we offer Blasť as a 90ml eau de toilette spray or in a gift set with a 50ml perfume, an 100ml body lotion and a 75ml body spray.

Please follow the links below to purchase

Please note: Due to transport legislation, we cannot ship more than 4 fragrances per order; Our perfume orders work on a back-order system that might take up to 7 days. If you have an urgent request, please contact us prior to ordering.